Located in the north of Malta, Għadira Nature Reserve is on the outskirts of Mellieħa, this seven hectare reserve comprises of brackish lake and saltmarsh habitat. Due to our dry climate in Malta, permanent areas of inland water are rare, making the Għadira wetlands an extremely important habitat for birds and other wildlife. Around 140 species of migrating birds are seen annually. Most of the birds seen are migrants, stopping to rest and refuel before continuing their long migration journeys.
Għadira Nature Reserve is a fully protected bird sanctuary, a Ramsar site, and a Special Area of Conservation within the EU Natura 2000 network. Escape the urban sprawl and enjoy open space at this wetland wildlife haven!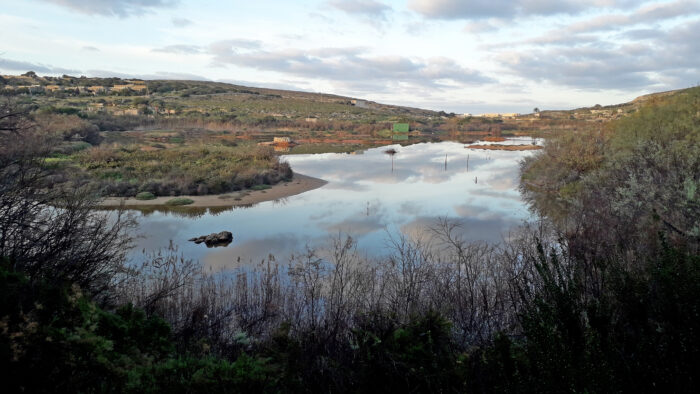 History
For centuries the site was used a saltpan by the residents of neighbouring Mellieħa. Use dwindled in the 1500s when the new saltpans at Salinas were constructed, and so the site fell into disuse. The area became silted up, and the construction of a road separated the area from the beach, leading to seasonal pools forming which attracted waterfowl. Proposals for a new inland road almost destroyed the site in the 1960's but the plans were stopped after BirdLife protested. But the dry lake bed was still used a summer car park for beach goers. Għadira was declared a bird sanctuary in 1978 and in 1980 the government adopted BirdLife's plans to restore the lake and saltmarsh habitat, and turn the site into a proper wardened nature reserve.
What To Spot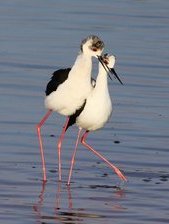 The open waters of Għadira Nature Reserve attract migrant wading birds such as redshanks, sandpipers and egrets.
Along the trails look out for the Sea Daffodil, Golden Samphire and Sea Lavender, as well as Mediterranean Chameleons and rabbits hiding amongst the shrubs and trees.
The call of the Zitting Cisticola can often be heard overhead, and resident moorhens are easy to spot across the pools.
In the spring stop by to see Black-winged Stilts and Little Ringed Plover, both of which breed at the reserve. If you're lucky you might even catch a migrating Eurasian Spoonbill or Greater Flamingo stopping by to feed and rest!

Book a school visit to Għadira Nature Reserve
Photography Hides
Interested in nature photography? Now you can book a slot at one of our photography hides at Għadira!
Għadira Nature Reserve reservoir photographic hide: Provides views of the reservoir area at Għadira Nature Reserve. In winter ideal for species like Kingfisher, Little Grebe, Moorhen, White Wagtail and Water Rail. In the spring months, ideal for all heron species as well as various wader species including Common Sandpiper, Little Ringed Plover and Common Snipe.
Għadira Nature Reserve Tamarisk grove photographic hide: A smaller hide which has been constructed overlooking a small freshwater pond. At all times of the year ideal for smaller species like Yellow Wagtail, Chiffchaff, Robin and also wintering birds like Common Stonechat and Bluethroat. Moorhen and Water Rail are also observed regularly within the pond which in the warmer months also attracts Wild Rabbit.
Booking for a one-hour session (starting on the hour) is required against a donation of €2 for members and €5 for non-members.
The hourly slots for the use of the photography hides at Għadira, available when the nature reserve is open for the general public (September to May), are:
Mon, Wed & Fri: 2pm-5pm (2pm, 3pm, 4pm, 5pm) in summer; 2pm-4pm (2pm, 3pm, 4pm) in winter
Sat & Sun: 10am-3pm (10am, 11am, 12pm, 1pm, 2pm, 3pm)
Click on the button below to book and you will be prompted to choose your slot and pay. Pre-booking and pre-payment are required. Please note that bookings are only taken online and no bookings will be taken at the reserve.
Terms and conditions apply.

Opening Hours and Getting There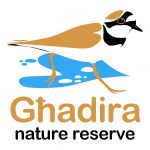 The reserve is open between September and May. During the week we're open on Mondays, Wednesdays & Fridays 2pm-7pm. On weekends we're also open on Saturdays & Sundays 10am-4pm. Entrance to the reserve is free of charge but donations are welcome.
If you are new to birdwatching, volunteers are on hand to provide assistance and help you spot some of Għadira's special wildlife. Please note that the reserve is a no smoking area and no pets are allowed inside the reserve.
Għadira Nature Reserve
Triq il-Marfa
Għadira Bay
Mellieħa
MLH 9064
Contact No: 7955 4347
The reserve is located on Triq Il-Marfa, past the Mellieħa Holiday Centre and over the roundabout. Parking is available.
Accessible from bus stop 'Għadira' on the routes 37, 41, 42, 221, 222, X1.