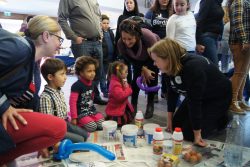 We are happy to be launching our brand new, fun-filled summer school at Is-Salina Nature Reserve.
This is a great opportunity for children from 3 to 13 years old to have fun learning about wildlife, environmental issues and the fascinating history of salt production through interactive games, experiments and craft activities. The sessions are in English and run from Monday to Friday between 09:30 and 11:30. Schools can book their groups of pupils (ranging from 15 to 30 children) for the session by calling +356 2134 7645 (Ext 503) during office hours or sending an email to education@birdlifemalta.org
Please take a look at some of the activities we are providing by clicking here.