€250.00
Pay to join our Nature Guardians summer programme here!
Please note that you are paying for the August-September course being held between 2nd August & 6th September 2023.
ATTENTION! Before proceeding to payment, please make sure that you have first filled in the booking form here.
After completing the Google Form application, you can affect the payment. Please fill in personal details in the checkout page. In case of difficulty please email [email protected].
19 in stock
Description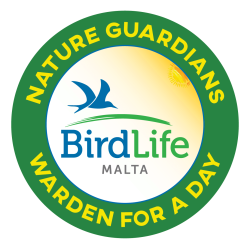 A healthy environment and nature are key to our future, key to the well-being of children.  Children need Nature. Nature needs children to care and protect. Nature needs Nature Guardians!
With this in mind BirdLife Malta is running two special summer Nature Guardian courses with the first one held between the 3rd and 31st July 2023 and the second one between the 2nd August and the 6th September 2023 (with a break for Sta Marija week). In both cases the course will have 13 sessions which will be held on Monday, Wednesday and Friday respectively starting from 5pm and ending at 8pm (the courses will be the same, so you only need to apply for one). We will be accepting children aged 7 to 11 years.
The course will be a mixture of fun, learning and hands-on work with the aim of connecting children with nature. Our dedicated staff members will nurture the importance of protecting our environment, delving into the fascinating world of soil, water, insects, mammals, plants and obviously birds.
Meeting point will always be Salina Nature Reserve, though some sessions will also take us to Għadira Nature Reserve, Simar Nature Reserve and Foresta 2000 (transport provided by BirdLife Malta).
The cost of the course, which includes a nature guardians T-shirt and cap, as well as working gloves, is €250. Booking will be on a first-come, first-served basis, with a maximum of only 20 children per course accepted, so hurry up and complete application and payment.
So what is better for the children than to learn and experience whilst immersed in the beauty of nature, all whilst having fun and making new friends. We look forward to welcoming you all in summer!