Do you love birds just as much as we do? Do you have a nature lover friend or family member and you always find it hard to get them a present? Well, look no further!
Support our efforts in conserving and protecting the wild birds of the Maltese Islands by adopting a bird with BirdLife Malta and becoming a #BirdHero for just €20 a year! Surprise your nature lover friend with a unique gift that makes a positive difference to wildlife.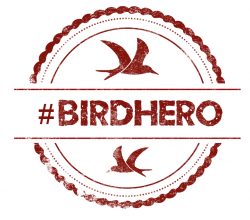 Choose between these three bird species:
The majestic, soaring Peregrine Falcon
The elusive, diving Scopoli's Shearwater
The charming, melodic Blue Rock Thrush
What is included in your bird adoption pack?
Your #BirdHero adoption pack will include:
A4 print of a watercolour illustration by Nimrod Mifsud
Adoption certificate which can be personalised so that you can buy it as a present

An A4 card packed with interesting information about the species of your choice
Digital updates every six months on our work to protect your species
Digital copy of our magazine, Bird's Eye View
FREE shipping in Malta and Europe
Make your donation go further by opting to go green and receive everything digitally. This way you help birds and the environment by using less resources. If you want to make a big order, or a delivery outside of Europe, or your address is different than the one on your Paypal account, please get in touch at fundraising@birdlifemalta.org. Last but not least, do not forget to use the #BirdHero hashtag and tag BirdLife on your posts – we would love to see your photos!
Check out which birds are for adoption below. After you choose the adoption pack you prefer, you can place your order and pay directly with a simple click on the PayPal button near the adoption pack you prefer!

Peregrine Falcon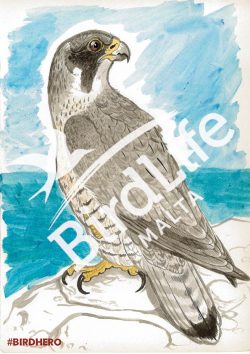 The Peregrine Falcon (Bies in Maltese) represents our efforts to protect and rehabilitate wild birds that are illegally targeted, exhausted from migration, or otherwise injured. Through our ongoing efforts we manage to rehabilitate and release injured birds back in the wild. Taking this bird "under your wing" helps us to better monitor bird migration and illegalities across the Maltese Islands.
Scopoli's Shearwater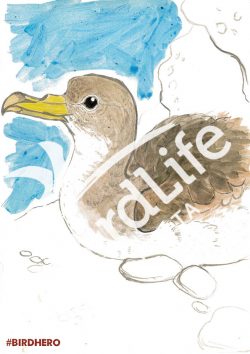 The Scopoli's Shearwater (Ċiefa in Maltese) represents our long and ongoing research on seabirds that started in the 1950s. Through our research we managed to collect data on the breeding populations, their behaviour, as well as creating protected areas around Malta. Taking this bird "under your wing" helps us to better understand these secretive birds and tackle their threats across the Maltese Islands. 
Blue Rock Thrush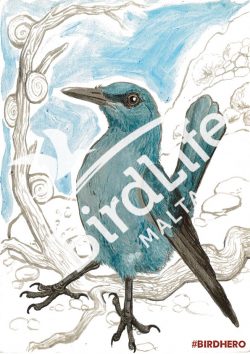 The Blue Rock Thrush (Merill in Maltese), being the national bird of Malta, represents our environmental education work, through which we strive to connect children, youths and adults with nature. We work to generate understanding and respect for the environment, and to inspire change in people's behaviour towards sustainable lifestyles. Taking this bird "under your wing" helps us to reach out and connect more people with nature.