This page contains publications which BirdLife Malta issues on a regular basis, together with reports which are made accessible to the public. These may include reactions to developments, reactions to new legislations being proposed, and position papers regarding different aspects related to BirdLife Malta's work.
On a regular basis, BirdLife Malta reacts to Public Consultations of Planning Applications, Government and European Policies, Plans and Strategy Papers.
Planning Applications we react to include industrial, commercial and individual (such as housing) development applications that have an impact on the natural environment. Occasionally, these require an Environmental Impact Assessment (EIA) to be carried out before construction work can begin. Environmental NGOs (eNGOs) in Malta are informed by the Planning Authority (PA) or the Environment & Resources Authority (ERA) – the governmental agencies responsible for structural, environmentally sustainable planning of urban, rural coastal and marine areas in Malta.
Due to our experience in the field of working towards preserving the Maltese natural environment – including terrestrial and aquatic ecosystems – and ability to identify and evaluate potential impact on these ecosystems and on citizens living in surrounding areas, BirdLife Malta alongside with other Maltese environmental organisations are invited to react to public consultations within three weeks of opening the call.
With our responses, we aim to influence the decision-making process over a Public Consultation. Simply put, if we discover and justify profoundly in our reaction paper that the planned development is not environmentally sustainable and the likelihood of the project to pollute, damage, destruct or destroy the natural environment is high, the Planning Authority has the obligation to revise the relevant sections of the Planning Application and evaluate or decide once again if the development is acceptable and should be implemented. Public Consultations regarding Policies, Plans and Strategy Papers often require a feedback from the general public to be adopted by the respective governmental authority.
See below for our current and previous reactions on Public Consultations to various projects.
2017 Report: BirdLife Malta comments on the proposal for a new Aquaculture Zone in the North of Malta
BirdLife Malta has revised the proposal for a new Aquaculture Zone in the North of Malta. Based on the information provided in the PDS open for public consultation, we are of the opinion that before the development of another aquaculture zone in Malta is approved and realised, further scientific assessments are required to fully understand the impacts on the marine and terrestrial environment caused by fish farms in Malta, particularly to identify environmentally sustainable fish farming practices within the marine Special Protection Area Il-Baħar ta' madwar Għawdex, the location which is currently preferred as a development site.
2017 Report: Comments on the Marine Strategic Framework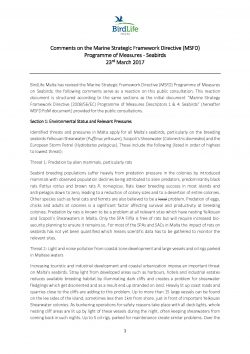 Directive Programme of Measures (Seabirds)
BirdLife Malta has revised the Marine Strategic Framework Directive (MSFD) Programme of Measures on Seabirds. The comments submitted in March 2017 serve as a reaction on this public consultation. This reaction document is structured according to the same sections as the initial document "Marine Strategy Framework Directive (2008/56/EC) Programme of Measures Descriptors 1 & 4: Seabirds" provided for the public consultations.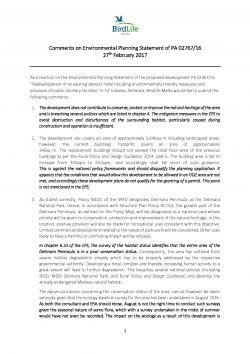 2017 Report: Response to proposed redevelopment of an existing derelict hotel at Ta' Kalanka, Delimara
On 27th February 2017 BirdLife Malta reacted to the Environmental Planning Statement of the proposed redevelopment of an existing derelict hotel including environmentally friendly measures and provision of public ancillary facilities in Ta' Kalanka, Delimara. BirdLife Malta stated that the development does not contribute to conserve, protect or improve the natural heritage of the area and is breaching several policies. The planning application should be disqualified as it goes against the national policy frameworks. It also appears that the conditions that would allow this development to be allowed in an ODZ area are not met, and accordingly these development plans do not qualify for the granting of a permit.
2016 Report: Comments on a development proposal to place a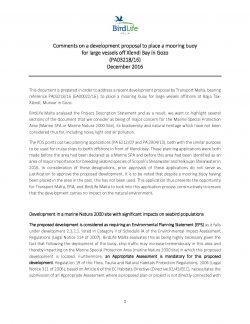 mooring buoy for large vessels off Xlendi Bay in Gozo
This document was prepared in order to address a development proposal by Transport Malta to place a mooring buoy for large vessels offshore at Xlendi, Gozo. BirdLife Malta analysed the Project Description Statement and as a result, highlighted several sections of the document that we considered as being of major concern for the marine Special Protection Area (marine SPA or marine Natura 2000 Site), its biodiversity and natural heritage which had not been considered, including noise, light and air pollution. Above all it was highlighted that the proposed development would impact the seabirds during their sensitive breeding periods between February and July for the Yelkouan Shearwater and between March and October for the Scopoli's Shearwater.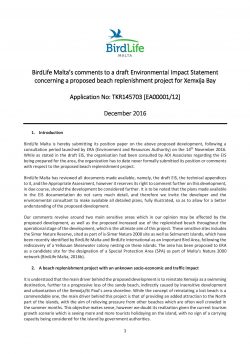 2016 Report: BirdLife Malta response on Xemxija Beach Replenishment proposal
This position paper issued by BirdLife Malta in December 2016 refers to a draft Environmental Impact Statement concerning a proposed beach replenishment project for Xemxija Bay. In expressing its several concerns BirdLife Malta stated that the objectives of the project in replenishing a lost beach are commendable, however the resulting effects of the project are difficult to ascertain in the absence of a socio-economic impact of the proposed development. A Traffic Impact Statement should be published and referred to in the environment impact assessment and the EIS should include more detailed plans of the proposed development in order to help ascertain better the impacts it may have on the Is-Simar Nature Reserve.
2016 Report: BirdLife Malta comments on the Paceville Masterplan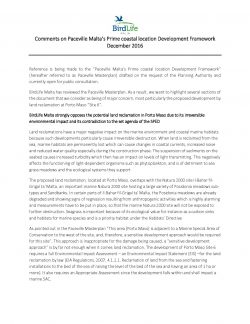 In its December 2016 comments on the "Paceville Malta's Prime coastal location Development Framework" (Paceville Masterplan) drafted on the request of the Planning Authority and at the time open for public consultation, BirdLife Malta strongly opposed the potential land reclamation in Portomaso due to its irreversible environmental impact and its contradiction to the set agenda of the SPED. About the overall consultation procedure, BirdLife Malta commented that the residents and property owners active in the area were only consulted at a late stage. It added that this is not the way a masterplan should be drawn up and has resulted in a fundamentally flawed proposal. The Paceville Masterplan was not based on any social impact assessments and it will set a dangerous precedent by proposing the expropriation of private people's homes to make way for open spaces and roads for the benefit of certain developments.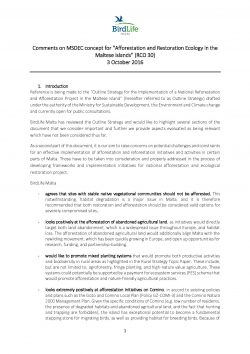 2016 Report: Response to the Outline Strategy for the Implementation of a National Restoration and Afforestation Project
The Maltese Islands have experienced widespread urbanization and development over past decades, with resultant negative impacts on both natural habitat areas and on green spaces in general. As a result, there has increasingly been recognition both of the need to safeguard existing habitat areas, and of the possibility of extending the network of green areas through tree planting initiatives. This 2014 Outline Strategy was intended to provide the basis for such a national afforestation and ecological restoration project. This is BirdLife Malta's October 2016 comments in response to the report which outlines a strategy incorporating a spectrum of both afforestation and restoration actions within rural and urban areas, based on the principle that such a project should aim to maximize both social and ecological benefits to the greatest degree possible.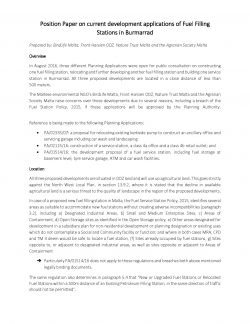 2016 Report: BirdLife Malta Position Paper on applications for petrol stations in Burmarrad
This Position Paper on development applications of Fuel Filling Stations in Burmarrad was jointly prepared by BirdLife Malta, Front Ħarsien ODZ, Nature Trust Malta and the Agrarian Society Malta and published in September 2016. In August 2016, three different Planning Applications were open for public consultation on constructing one fuel filling station, relocating and further developing another fuel filling station, and building one service station in Burmarrad. All three proposed developments were located in a close distance of less than 500 meters.  The four eNGOs raised concerns over these developments due to several reasons, including a breach of the Fuel Station Policy, 2015, if these applications were to be approved by the Planning Authority.
2016 Report: Comments on the Environmental Impact Statement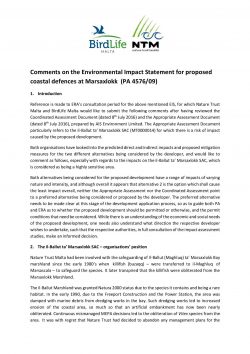 for proposed Marsaxlokk Breakwater
In this July 2016 report, BirdLife Malta and Nature Trust jointly reacted to the Environmental Impact Statement for the proposed Marsaxlokk breakwater. Both organisations looked into the predicted direct and indirect impacts and proposed mitigation measures for the two different alternatives being considered by the developer, and made their comments especially in regard to the impacts on the Il‐Ballut ta' Marsaxlokk SAC, which is considered as being a highly sensitive area. They stated that the proposed development in its various forms of the proposed alternatives appears to not solve the ongoing erosion that threatens the area, but rather risks accentuating the impact caused by the past development of coastal structures in Marsaxlokk Bay. The mitigation measures proposed are moreover inappropriate, and further realistic and doable measures should be considered so as to protect the SAC site.
2016 Report: Reponse to proposed construction of an elderly residence in Luqa
In its June 2016 reaction on the proposed construction of an elderly residence in Ħal Luqa, BirdLife Malta declared it does not support the proposed development due to several arguments, amongst them the fact that it does not qualify for a development in ODZ land as per Rural Policy and Design Guidelines, 2014 and also because several policy obligations under the SPED which are pointed out in the PDS speak against the development of the proposed site. Having consulted the above policy documents, BirdLife Malta saw no justification for the development to be undertaken in ODZ land.
2016 Report: Response to proposed redevelopment of an existing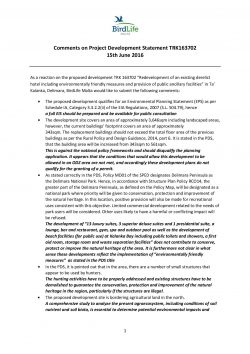 derelict hotel in Delimara

In June 2016 BirdLife Malta reacted to the proposed "Redevelopment of an existing derelict hotel including environmentally friendly measures and provision of public ancillary facilities" in Ta' Kalanka, Delimara. BirdLife Malta stated that the planning application should have been disqualified as it was against the national policy frameworks. It appeared that the conditions that would allow this development to be allowed in an ODZ area were not met, and accordingly these development plans do not qualify for the granting of a permit.
2016 Report: Response to proposed development of a Cultural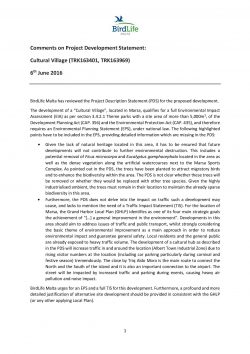 Village in Marsa
After reviewing the Project Description Statement (PDS) for the proposed development of a Cultural Village located in Marsa, BirdLife Malta responded that this development qualified for a full Environmental Impact Assessment (EIA) and therefore required an Environmental Planning Statement (EPS) under national law. BirdLife Malta highlighted points to be included in the EPS, providing detailed information which was missing in the PDS. BirdLife Malta also asked for a full Traffic Impact Statement for this development together with a profound and more detailed justification of alternative site development to be provided in consistence with the Grand Harbour Local Plan or any other applying Local Plan.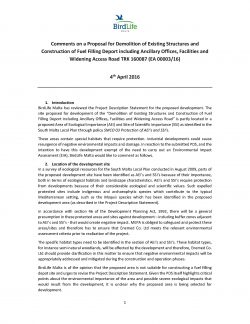 2016 Report: BirdLife Malta comments on Ħas-Saptan fuel filling station
In this April 2016 report, BirdLife Malta reacts to the Proposal for Demolition of Existing Structures and Construction of Fuel Filling Deport including Ancillary Offices, Facilities and Widening Access Road at Ħas-Saptan. The area selected for the proposed development has environmental relevance because parts of it are located within Areas of Ecological Importance (AEI) and Sites of Scientific Importance (SSI). Therefore, BirdLife Malta stated, alternative development sites should be considered. The Project Description Statement also fails to ascertain that the impacts from the development could be contained or mitigated without effectively evaluating fully the risks and importance of the site in question in terms of the various environmental factors that need to be considered. Other aspects such as the impact on human health, ecology, hydrology and geology of the area and their contamination, waste disposal, and a risk assessment of the site in question could only be determined by an Environment Impact Assessment.
 2016 Report: BirdLife Malta Position Paper on Inwadar Park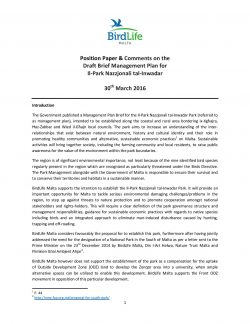 The Government published a Management Plan Brief for the Il‐Park Nazzjonali tal‐Inwadar Park which was intended to be established along the coastal and rural area bordering ix‐Xgħajra, Ħaż‐Żabbar and Wied il‐Għajn. The region is of significant environmental importance, not least because of the nine identified bird species regularly present in the region which are recognized as particularly threatened under the Birds Directive. BirdLife Malta declared it supports the intention to establish the Inwadar Park but also declared that it however did not support the establishment of the park as a compensation for the uptake of Outside Development Zone (ODZ) land to develop the Żonqor area into a university, when ample alternative spaces can be utilized to enable this development. BirdLife Malta declared its support to the Front Ħarsien ODZ in opposition of this particular development.
2016 Report: Response to plans to develop Ta' Ċenċ area into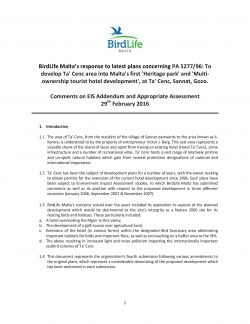 Malta's first 'Heritage Park' and revised plans for expansion of hotel
This 29th February 2016 report represents BirdLife Malta's fourth submission on the development plans for Ta' Ċenċ following various amendments to the original plans, which represented a considerable downsizing of the proposed development within a Natura 2000 site.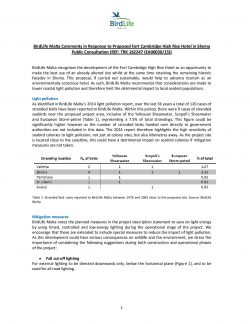 2015 Report: BirdLife Malta response to proposed Fort Cambridge high rise hotel in Sliema
In this 2015 report on the proposed Fort Cambridge high rise hotel in Sliema, BirdLife Malta recommended that MEPA requests an external lighting scheme for both the construction and operational phases of the development, which scheme is assessed appropriately at the EPS stage of the development application. Any exterior lighting emanating from the development should be one that does not contribute, but rather minimises the current problem of coastal light pollution across the Maltese Islands.
2015 Report: Response to Public Consultation Exercise regarding a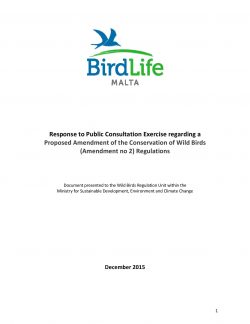 Proposed Amendment of the Conservation of Wild Birds (Amendment no 2) Regulations
On the 13th November 2015, the Wild Birds Regulation Unit published a draft of proposed amendments to the Conservation of Wild Birds Regulations, which were to introduce a number of fundamental changes to wild bird protection regulations. In reaction to a call for public consultation, this document was compiled to inform all concerned authorities, as well as personally the Parliamentary Secretary in charge, of the implications of these proposed amendments, so as to truly ensure that any amendments done to these regulations benefit the protection of wild birds rather than impede it.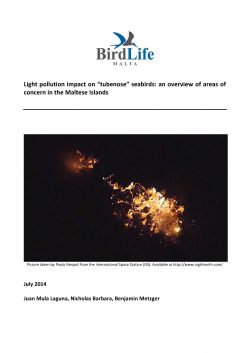 2014 Report: Light pollution impact on "tubenose" seabirds: an overview of areas of concern in the Maltese Islands
This 2014 report studied the impact of light pollution on Yelkouan Shearwaters in Malta and assessed the magnitude of the issue as based on cases and research reported by the public to BirdLife Malta over the past 36 years. Main hotspots of the island were identified, with our results indicating an apparent relation between the number of stranded birds in a given area along with the levels of light pollution and the vicinity and scale of a seabird colony.
2010 Report: Report on Studies to Investigate Seabird By-catch by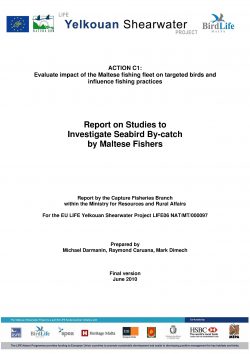 Maltese Fishers
This June 2010 report for the EU LIFE Yelkouan Shearwater Project seeked to evaluate impact of the Maltese fishing fleet on targeted birds and influence fishing practices. A multidisciplinary approach was taken in order to comprehensively evaluate seabird by-catch in the Maltese long-line fisheries. For the first time, an informed understanding of the exact nature and extent of the by-catch on both Puffinus yelkouan and other seabird species by the Maltese fishing fleet was developed.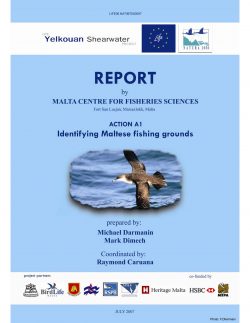 2007 Report: Identifying Maltese fishing grounds

This July 2007 report is a review to identify Maltese fishing grounds by fish type and area, and to analyse Maltese fisheries activities in order to map specifically the types of fishing activities undertaken in different fishing grounds and how these factors vary during the year. The report was compiled by the Malta Centre for Fisheries Sciences for the EU LIFE project carried out by BirdLife Malta on the Yelkouan Shearwater.
2007 Report: The international impact of hunting and trapping in the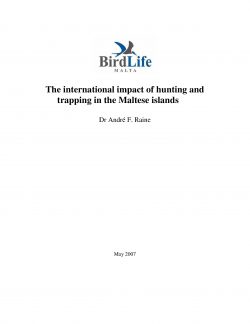 Maltese Islands
This May 2007 report shows the international importance of Malta on the
European-African migratory flyway. Birds from breeding populations throughout Europe pass over Malta every year on their way to African wintering grounds. It follows that illegal hunting and trapping activities in Malta have a direct resonance on the conservation efforts of countries throughout Europe and Africa. Malta therefore has a responsibility to protect these species, which should be viewed as a common heritage and not simply as a resource for Maltese hunters and trappers.