Dates: Friday 7 & Saturday 8 July 2017

Time: 18:30 – 21:30
Location: Ta' Ċenċ Cliffs, Gozo

Our favourite summer adventure is on again! Join our LIFE Arċipelagu Garnija sunset boat rides to see one of the most spectacular Malta's natural phenomena – the Scopoli's Shearwater 'rafting' on the water before returning to their nests in Ta' Ċenċ Cliffs.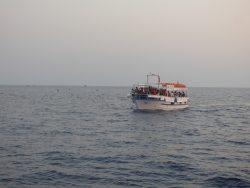 We are taking bookings for the remaining two trips planned for July:
Friday, 7th July
Saturday, 8th July
Meeting: Marfa Jetty, opposite Riviera Hotel. Meeting time is at 18:30, the boat leaves at 19.00.
This year's boat trips are being co-financed by our LIFE Arċipelagu Garnija project and to cover the remaining expenses we are asking for a €10 donation from each participant.
Donations should be made in advance when placing your booking through our online payment facility which can be found further down in this page.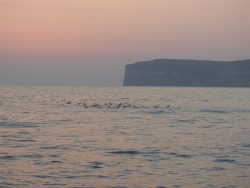 How to book?
Proceed with the online payment via PayPal (click on the Buy Now button below, all credit and debit cards are accepted). Please choose the date of your trip, select the total amount due and include the following details when you place your booking:
Name and mobile contact number
Date of the boat trip you want to attend
Membership number if you have one
Names and number of all the people in your group
Age of the children in your group
You will receive an email confirmation right after. Booking for these two trips will be accepted until 5th July depending on spaces remaining.
*Children under 5 years are not allowed due to boat restrictions.
**Due to space restrictions on the boat, bookings will be accepted on a first come first served basis.
***In the unlikely event the trip cannot run due to inclement weather we will try and arrange a trip at an alternative date.
If for some reason you cannot proceed with the online payment, you can also send a bank transfer (quoting name and date of the event together with the participants' names) to:
BirdLife Malta
Bank: BOV (Bank of Valletta)
IBAN:

MT43VALL22013000000040010951507

SWIFT/BIC: VALLMTMT